7-inc color touch operation

The high definition 7-inch wide display has allowed JRC engineers to develop an exciting new software approach that offers an incredibly easy-to-use icon based navigation experience with simple menus and dedicated functions.

The set of icons has been carefully designed. We brought the elements and visual style of our commercial class Multi Function Display (MFD) to our most compact series of radars. Built with the proven quality you expect from us.

Sysrem-on-Chip-Technology

JRC engineers custom designed the System-on-Chip (SoC) inside the new JMA-1030 series to be an extremely powerful tool and at the same time makes the display compact and very power efficient.

AIS and MARPA Stabdard

The new radar has the ability to display 50 AIS*1 symbols, and 10 MARPA™*2 tracking targets as standard. The high quality of the display provides outstanding target definition and discrimination.
Man overboard

A slippery deck or unexpected movement of the ship are situations in which a person may possibly fall overboard. The JMA-1030 integrates a single press MOB*3 button which instantly displays a dedicated symbol and remembers latitude and longitude to enable accurate search and rescue efforts.

Favorite Icons

While navigating it may be useful to have certain functions directly available on-screen without having to go into the menu. With the JMA-1030 you can. Simply hold any of the icons in the menu for about 2 seconds and the function will be placed at the bottom of the screen. Removing the icons works the same way.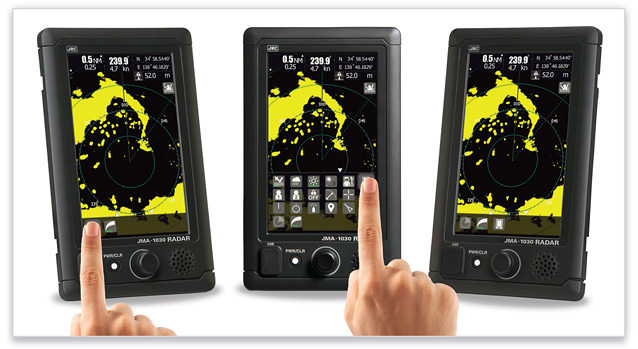 The target visibility can be set in four different levels allowing target enhancement relative to the target size, a function normally not found on this type of radar.


This function allows the user to set a guard zone, providing a visual and audible alert for any vessel entering or leaving that area

With JRC's new design approach, a flush mount kit is not required and screws are nicely concealed behind the front cover.


The processor is built into the display unit allowing for a flexible installation approach. This compact all-in-one unit allows flush mounting and includes a bracket for table mounting. Optionally available is a special bracket for ceiling mounting.


An external monitor can be connected to the display using an optional RGB unit, specifically useful in situations where a bigger monitor is required at another place on the vessel

The JMA-1030 has a 3 channel NMEA signal input allowing connections to navigation equipment such as GPS; for own position, waypoints and speed for MARPA tracking. It also allows a GPS compass connection for your heading (and MARPA tracking) and/or AIS for displaying targets.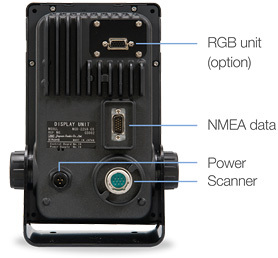 With this new radar, JRC introduces two new small and light weight 4kW multi-speed scanners available in a 1.5ft (450mm) and 2ft (620mm) radome. The supplied 10m*1 cable allows you to install the dome on a mast, radar arch, or mounting on a pole. The scanners features a new high rate PRF*2, which allows for a highly accurate short range detection.

Depending on vessel operations and user preferences, magnetron life can be extended by lowering the output power with the economy mode and/or user selectable transmitting intervals with the timed TX mode*3.